Feet on the Ground, Head in the Sky
Ning Network Spotlight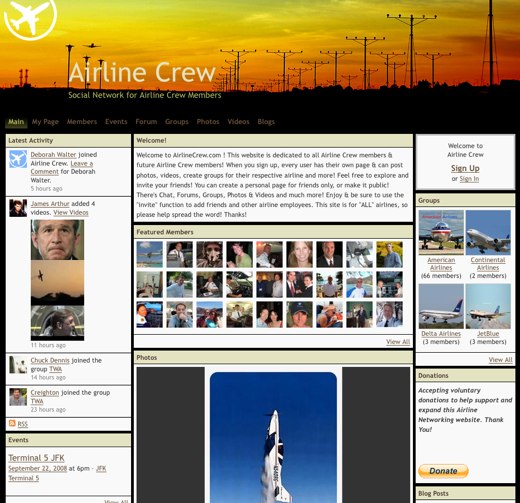 Traversing timezones, clearing customs and working at 35,000 feet… phew!  That can leave little time for aviation professionals to get to know their coworkers.  Fortunately, Airline Crew is the non-stop hub for connecting and keeping in touch with other frequent fliers that call it their job.
With more than 380 people that make airports and jetliners their workplace, Airline Crew is a home-base no matter where in the world members have landed.  Comair pilot, Chris Gladwell, checks out Airline Crew and blogs as he waits between flights.  American Airliner Paul Burge created a blog for ex-TWA employees to reminisce about the now-defunct airline.
It's often been said that we should live for the journey, not the destination.  Members prove this to be true by sharing photos of unforgettable moments while on the job.  Highlights include Captain's close-up photo of the Pope and soldiers in Nuerenberg, Randyf57's "Chicago at Dawn" and Nelson Krueger's "Nels L-1011 engine gals".
By bringing together aviation professionals from around the world, the sun really never sets for the Airline Crew.