Get your MMA at Fighter.Pro
Ning Network Spotlight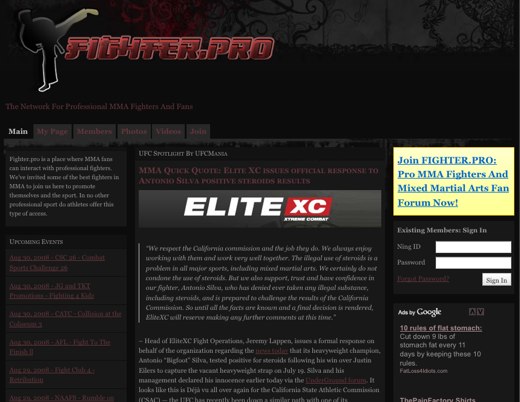 Over the last decade MMA, mixed martial arts, has had a huge leap in mainstream popularity. Organizations like the Ultimate Fighting Championship and Pride, among others, have taken the sport to a whole new level in the public eye. Fighters from all over the world compete and are well known by the fans that have helped make this sport explode. Fighter.Pro pays homage to professional MMA fighters, and their fans, with their sleek looking and super-informative network.
Fighter.Pro is an awesome one stop shop for everything MMA, and they're not restricted to news from just one organization. It's challenging to keep up with all the fights going on at any given time, but Fighter.Pro has you covered. They have an extensive list of upcoming fights and events, complete with an RSS feed you can subscribe to stay up to the minute on new events. The recent headlines offer another way to stay knowledgeable about the latest MMA news. At work and missing a fight? No problem, the headlines also have an RSS feed to keep the latest headlines right at your gloves.
Headlines and events aren't the only perk Fighter.Pro has going — watch videos, view pictures, and check out member pages. Some of these members aren't just fans, they're also professional MMA fighters. If you love MMA, Fighter.Pro is definitely a network you want to be on.