FISH! Philosophy Network reels in satisfaction
Ning Network Spotlight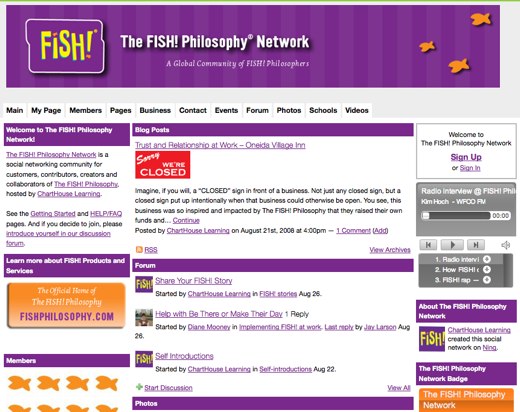 It began with fish flying through the air, the laughter of employees, and the good cheer and satisfaction of a few customers. Who would think that such an ordinary thing as a fish market on a busy day could inspire an entire philosophy? They say inspiration can come from anywhere, and the FISH! Philosophy Network can certainly tip their hats to that.
The FISH! Philosophy network is a gathering place for followers of the FISH! Philosophy. Based on a guide called FISH! A Remarkable Way to Boost Morale and Improve Results, the ideas and methods presented here offer ways for employers to make their business more satisfying and successful, not only for themselves, but for employees and customers as well.
At the FISH! Philosophy Network members come together to share thoughts and ideas about this philosophy and put them into action. Learning events and seminars teach ways to employ these ideas in the workplace. The focus is on the four major themes — play, make their day, be there, and choose your attitude. Photos and videos showcase the philosophy in action and are a great place for employers to find practical ways to integrate the philosophy into their work environment.
The FISH! Philosophy Network isn't just another bland teaching tool for the ho-hum workplace, it's a network of people changing the norm and making the workplace fun and satisfying for everyone!