The Fordyce Letter Network
Ning Network Spotlight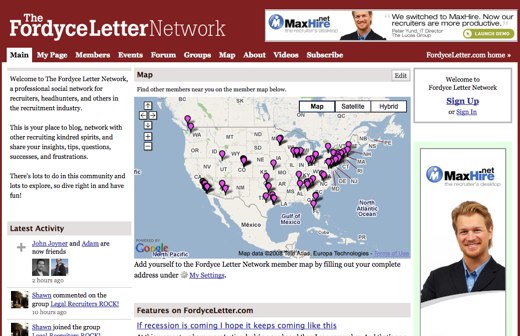 Recruiters are in a business where connections and a sound know-how are essential to success, and that's where The Fordyce Letter Network comes in.
This network is a treasure chest of tools for those in the recruiting profession. Members can network in the Fordyce forums, which cover topics from low SAT scores and the impact they might have on recruiting, to resume retention times. Upcoming recruiting seminars and events, like SourceCon, are cataloged on the site and members can RSVP if they're attending.
As might be expected The Fordyce Letter Network is an active community. Group membership is high and several blog contributors keep the network's blog fresh and exciting.
If you're in the recruiting biz, take a look at The Fordyce Letter Network, a valuable resource in any recruiter's arsenal.