Grab some air at Global Skateboarding Network
Ning Network Spotlight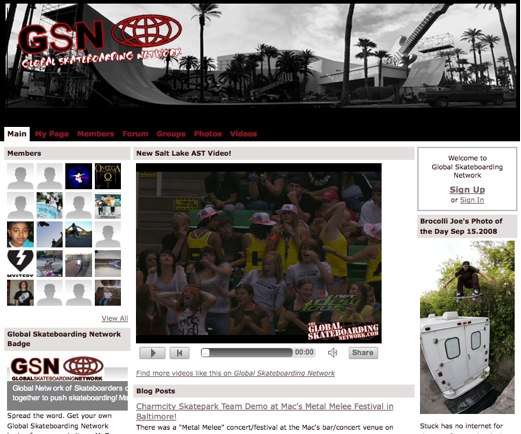 The closest some of us will ever get to a smooth nollie hardflip or a 360 shuv-it is via a video game controller. But the riders at Global Skateboarding Network aren't living out their kickflipping fantasies via the latest game console. Taking it to the streets with sweet moves and skaters ranging from novice to pro — these guys and gals know where it's at when it comes to skateboarding.
Event flyers line the main page for sessions and competitions around the country, and some around the globe. Sideliners and riders alike will fall hard for the photo collection of amazing stunts showcased in the expansive photo gallery on GSN's photos page. Riding high over rails, vending trucks, staircases and more, the world is a playground and all you'll need is a board to take full advantage.
Groups advocating the years-old adage that skateboarding is not a crime abide on the groups pages. Groups about your favorite pros and groups for new boarders give GSN members at any stage of skateboard love a place to collect and chat up the latest tricks or old skool goodies.
Mongo your way over to the Global Skateboarding Network and check this awesome resource for everything skateboarding.