Healthy oasis at Food as Oneness
Ning Network Spotlight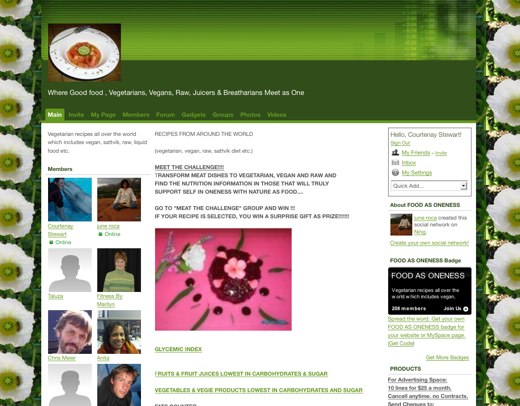 Since when did the average meal become a hamburger, fries and milkshake? As fast food chains continue to spread, it gets harder and harder to resist their deliciously unhealthy meals. For health-conscious eaters, Food As Oneness provides a much needed escape from current food trends.
Vegetarians, vegans and juicers share recipes and tips to make healthy eating easy and tasty. Want to know the benefits of bee pollen? Or even the nutritional content of goji berries? Get all of your food-related questions answered by scrolling through the recent blogs.
Members are invited to "Meet the Challenge" by transforming meat dishes into vegetarian, vegan or raw form. For some healthy inspiration, check out Food as Oneness' video collection. Learn about glyconutrients or watch clips on how to make veggie quesadillas, raw chocolate cake and eggless sponge cake.
Eating right can often be challenging, so why not do it the easy way? The next time you are planning a trip to the drive thru, replace it with a visit to Food as Oneness and start your meal off right!
Let's start create health website with Ning: https://www.ning.com/create-health-website/