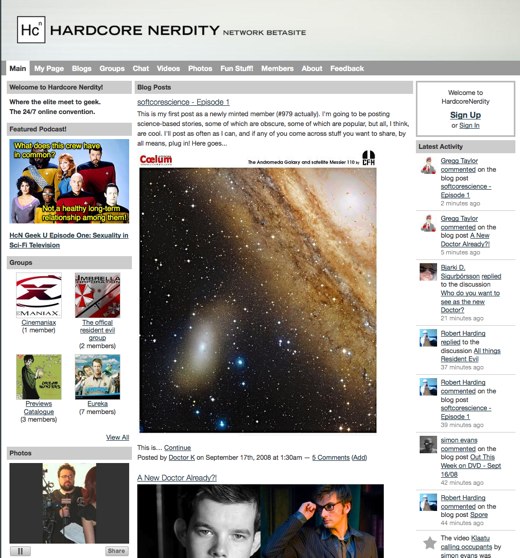 There are book dorks, video game nerds, science geeks, readers of Metafilter and Star Trek fans. Proclaiming yourself as a nerd of some sort isn't difficult. But for the really, truly nerdy among us, there's a new place to self-identify: Hardcore Nerdity, where "the elite meet to geek."
And elite geeks, they are. The featured podcast is "Sexuality in Sci Fi Television" — that's heady stuff!  With almost 1,000 members, there's a wide variety of nerdity represented, and there's no better place to see it than in the blog posts. Of current concern is who will play the Doctor in the new version of Dr. Who. Of course, there's nothing a good nerd likes more than learning something new, and nerdy. For a mini science lesson, read the cleverly named "Soft Core Science" lessons: the first focuses on the Andromeda Galaxy.
If you aren't sure if your nerddom is, well, nerdy enough for Hardcore Nerds, then stop by the Groups section, to see just how many types of nerds there really are. When you've confirmed that you are indeed a nerd, "Klingon" to Hardcore Nerdity to start nerding it up!
No related posts.