Join a movement through music at Soul Genesis
Ning Network Spotlight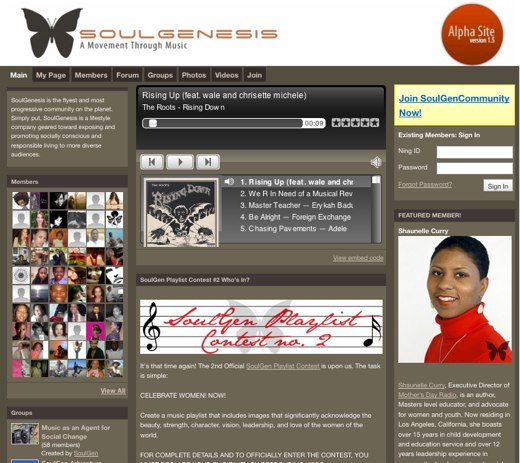 It's no secret that music has the power to influence people.  To move, inspire, motivate, and soothe in ways that other media can't. Using music as a catalyst for motivation to become involved and harness the sway it provides is something Soul Genesis does with panache — a movement through music.
Soul Genesis is "geared toward exposing and promoting socially conscious and responsible living to more diverse audiences." They've created a network that covers a wide range of topics and employs a multitude of creative outlets to do it. For example, join groups like SoulGen Adventure to get involved in outdoor sports,  from rock climbing and snow boarding, to skydiving. Or nourish your inner self with the Spiritual Enlightenment/Cultivation group. This, of course, is only a small sample of the range of groups that Soul Genesis offers.
Even though Soul Genesis is still only in alpha form, its potential is already shining through. Inspire movement, action, inner peace and better living through music, and connecting in the Soul Genesis forums. Encourage change by posting photos and videos of your own actions and movements. Educate yourself by perusing blog posts and checking out featured network members like Shaunelle Curry. Diversify your world view on responsible and socially conscious living and become a part of movement through music, all at Soul Genesis.