Ryan and Sean's Not So Excellent Adventure
Ning Network Spotlight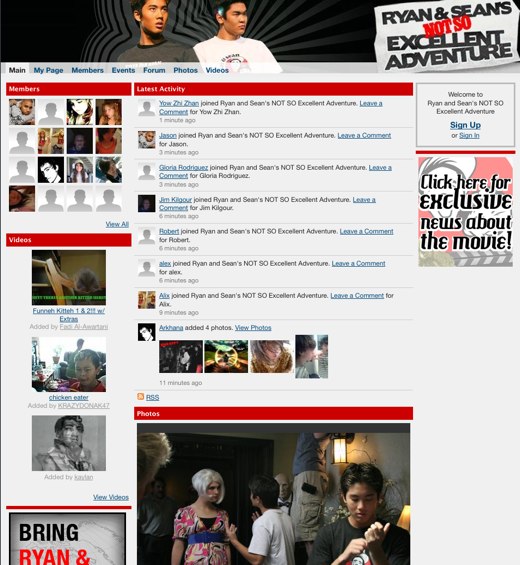 Plucked from relative Internet obscurity, Ryan Higa and Sean Fujiyoshi are now Hollywood celebrities starring in the next big buddy flick. Follow along — and take part in — all the hilarious situations the two web celebs find themselves in, at the Ryan and Sean's NOT SO Excellent Adventure network.
Fans of Ryan and Sean will first want to drum up support for a stop in their hometown by the two stars. Londoners have started a campaign, as have fans from Philly and Boston. When all the votes are tallied, the two comedians will visit the top three most-demanding cities.
The Ryan and Sean network is also a great place to get behind-the-scenes access to the film. Check out the video below to see what went in to making the movie, or read up on what the cast and crew liked about working on the set. Of course, if you join the network, you can always ask the two stars, Sean and Ryan, what they liked the best directly.
The name of the network is the Not So Excellent Adventure, but from what we can tell, no one's having a bad time on this trip. Join Ryan and Sean's Not So Excellent Adventure to start your own trip today!