Join the Peacefest
Ning Network Spotlight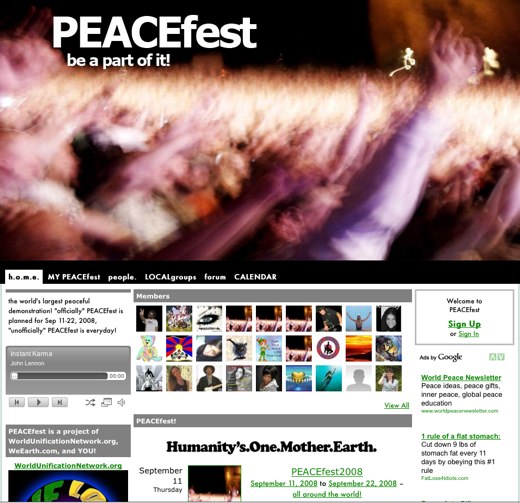 PEACEfest, the World's largest peaceful demonstration, makes its official mark in September each year. Now, supporters can spread the peace year round with PEACEfest's new network.
PEACEfest aims to connect peace minded people to one another and local events. "Elevate film festival: World premier of "Peace" music video", "Peace Party" and "PeacefestUK" are just a few of the upcoming plans.
The network's groups connect members further as they can discuss events and news specific to their hometowns. The Forum and blogs provide an outlet for members to speak their mind and spread the good cause. Recent topics include: "Intentional Silence", "Walk for Peace Nationwide" and "Breaking Through to Transformation".
With daily posts and members from all over the world, at PEACEfest you can make your statment now, even if September has come and gone.