Staying local at Kitchen Gardeners
Ning Network Spotlight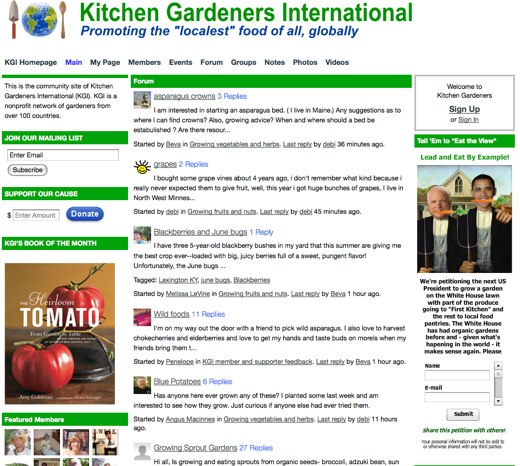 It's common knowledge that local is the new green. From Michael Pollen to politicians, everyone is espousing the importance of eating local. The Kitchen Garderners network celebrated the most local food source of all—the backyard garden!
As it's associated with Kitchen Gardeners International, the network's membership spans the globe, but their conversations are on the world's most universal topic: food! Want to know how to make watermelon rind preserves? Or the best way to prep your garden for the fall and winter? Make sure to stop by the Kitchen Gardeners Network Forum for discussion on anything and everything related to bringing your garden's bounty into your cooking. For newcomers to home gardening, photos of lusious greenary can serve as an inspiration to plant.
The summer is almost over, but that doesn't mean it's too late to start gardening; join the Kitchen Gardeners Network today, and you'll have food to eat by the Autumn harvest!