Let sustainability and networking Intersect
Ning Network Spotlight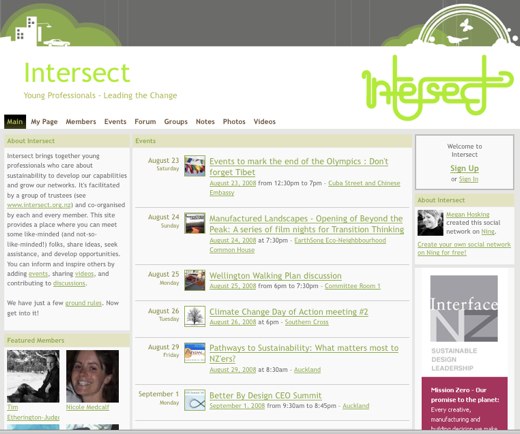 Intersect is a non-profit organization which aims to bring young professionals together to move forward in creating a sustainable future.
The focus centers on teaching and action, often bringing the two together to achieve success with forums, groups, events and networking. Join a celebration of sustainability in architecture as students show how they transformed "waste" into building materials. Attend the "e-motion launch," an unveiling of a sustainable transport system.
Intersect, of course, offers more than a simple event page. This network offers the chance to connect with other young professionals to facilitate change toward a sustainable future with action and teaching, and offers the tools to do it. Satisfy your curiosity, and learn more about how young professionals in New Zealand are working toward a sustainable future at Intersect.