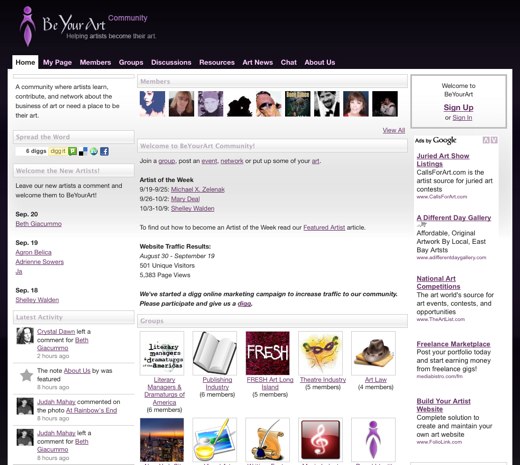 Be Your Art is a place where artists can learn, contribute, and network about the business of art — or simply be their art. Acting as a hub of practical resources and information for starving artists, the goal is to "help artists understand the demands of the business world while still allowing them to pursue their dreams without compromising them."
Just a month old, Be Your Art has got a great foundation already. Network Creator Judah Mahay is clearly ambitious (and busy!) as he's established an About Us, FAQs, a wide variety of Art News and Resources, a range of forum categories and helpful groups. What is especially cool is the diversity of groups — they aren't just about your passion, but also about how you can turn your passion into something sustainable: Finances, Medical Insurance, Conventional Marketing and Art Law. Following Judah's suit, members can find themselves spotlighted as either a Featured Member or the Artist of the Week in a number of ways by simply contributing to the network.
Artists everywhere should check out Be Your Art!
No related posts.