Make a pilgrimage to Scott dot Ning
Ning Network Spotlight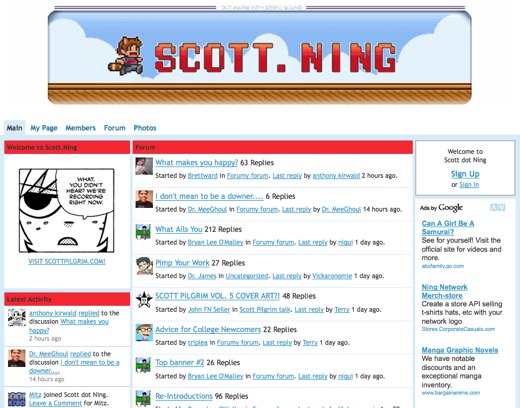 Scott Pilgrim is just a regular guy living an awesome life, until the new girl in town shows up. Now, to get the girl, Scott has to defeat her seven evil ex-boyfriends in battle and try to make his formerly awesome life even more awesome. Hopefully.
This is the life of Scott Pilgrim, a comic book series by Brian Lee O'Malley — and this is Scott dot Ning, the network for Scott Pilgrim fans! If you're already a fan of the comic series, or if you're curious and looking to get into a new series, Scott dot Ning's a good place to start. The Main Page features the latest posts from Brian's blog and photos from his site at radiomaru.com.
The forum is also super active, and fans chat it up about everything from opinions on the next volumes cover art to things that make them happy. The photo gallery is a treat for the eyes with original drawings from Brian, Scott Pilgrim munnys and a ton of fan art. It always amazes me how well a lot of fan art is drawn, and the Scott Pilgrim fan art is no exception!
Get in on the Scott Pilgrim action early at Scott dot Ning, this series is blowing up fast! With a movie in the making, new volumes coming out, and a ton of already loyal fans there's a lot to live up to at Scott dot Ning.