Make your home a haven with Zabitatz
Ning Network Spotlight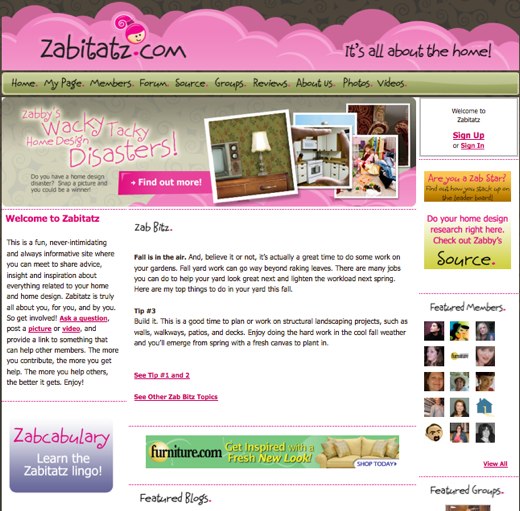 So you've finally trashed your college futon and retired that "wonderful" bright orange set of Ikea curtains. As you attempt to gracefully turn what used to be a place where you slept into an actual home, turn to Zabitatz for all of your home-decorating questions and interior design inquiries.
If you are wondering just what Zabitatz is (and means) check out the extra-helpful glossary. If you are a super active member of the network, you could be a "Zabber" — "active member of Zabitatz who enjoys learning, sharing, researching the home." Or maybe you are just think the network and ideas on it are zabtastic — something a zabber "finds extravagantly fanciful or marvelous."
If you are embarking on a home-decorating project of any type, you'll want to make Source your first stop. Learn about what different colors convey, when used in your home, or how to decorate your first home on a budget. All of the info in Source is provided by pros, so you know you are in good hands. Still, if you just need a casual take on something, you can always head to the forum to ask fellow Zabbers for their opinions.
Home decorating isn't easy, but with a little know-how and a lot of advice, it doesn't need to be so bad. Join Zabitatz for a supportive network of other decorators who have been there and know how to help!