Mixing Sugar, Spice
Ning Network Spotlight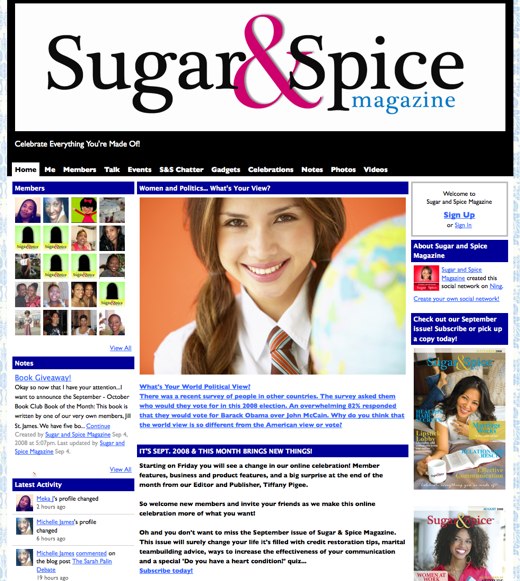 If you're a woman looking to connect with other real women, check out the network for Sugar & Spice magazine! Sugar & Spice magazine is a women's lifestyle publication that celebrates women and their unique lifestyles and personalities.
Hop into S&S Chatter or start blogging to talk politics, faith, romance, and life in general. For the mothers out there, you can submit your beautiful daughters to be the next Little Miss Sugar & Spice. Watch and discuss the potential first ladies, Cindy McCain and Michelle Obama. Join in celebrations for all occasions (and women) such as Wedding Wisdom, Zen Den and Womenprenuers!
Amongst all this awesome content and fun to be had, there's also an incredible opportunity! f you're an aspiring writer yourself, you may want to peruse the Sugar & Spice Writers' Guidelines and submit a piece to be featured in a future issue. Celebrate everything you're made of at Sugar & Spice Magazine!