OMG, Gossip Girl fans, it's OMFGG
Ning Network Spotlight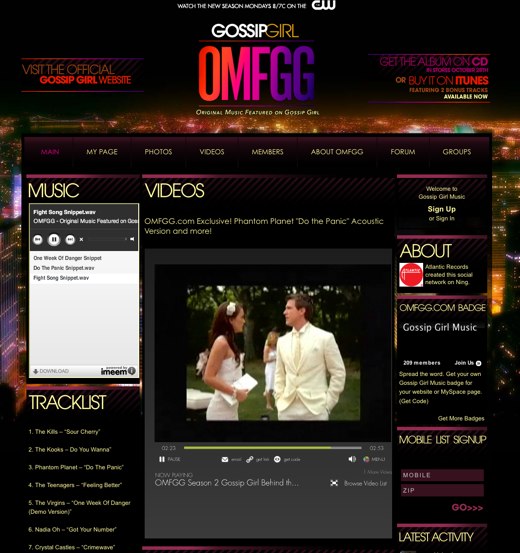 Blaire cheating on her boyfriend. Jenny stealing the designer dress — and getting caught. And Serena's admission that she killed someone. While dramatic, none of these scenes from the first season of the CW show Gossip Girl would have had nearly the effect if it wasn't for the masterful alt-rock soundtrack. Which, is appropriately titled OMFGG (no, not that — it stands for Original Music Featured on Gossip Girl), and is available in stores on Oct. 28.
The first thing you'll want to do on the OMFGG social network is turn up the volume to hear snippets of songs by The Virgins, Phantom Planet and The Republic Tigers. If you like "Do the Planet" by Phantom Planet, then you'll definitely want to check out OMFGG's exclusive acoustic version in the Videos section. Or you could always just spend some time making friends with your favorite high schoolers like Dan, Jenny, Chuck and Blair.
With the second season of the hit show underway, there's no time to waste. Sign up and say "you know you love me, XOXO" to OMFGG today!