Only the finest junk at Blacktop Rambler Cafe
Ning Network Spotlight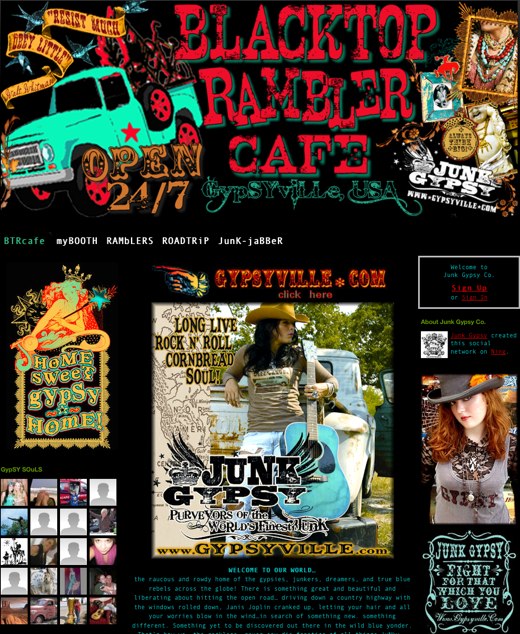 From Glamour to US Weekly, the CMA's to Macy's Glamourama, the Junk Gypsy Co. has been in demand since 1998, when JG clothing and accessories hit the fashion scene. It all started when Amie, Jolie and Janie, the mother-daughter team, began traveling like gypsies, collecting roadside treasures along the way. Their contagious love for flea markets and great junk brings fans together at their newest spot: Blacktop Rambler Cafe.
The BTRcafe is the rowdy home for gypsies, junkies, dreamers and true-blue rebels. To join in on the fun, speak up on Junk-JaBBeR, where fans discuss new Junk Gypsy clothing lines, old favorites and antique finds. Want to add to your Junk Gypsy collection? Head to RoadTRiP for upcoming events like aNtiQueS WeeK and junKoRaMa PRom.
For some junky fashion inspiration, check out the latest styles in the "mUSiCiANS spORTiNG JG gOOdS" album. JG clothing combines hippie, rock 'n roll, southern and of course gypsy styles. They have a piece for just about any look. So let your hair down and discover your inner gypsy at Blacktop Rambler Cafe.