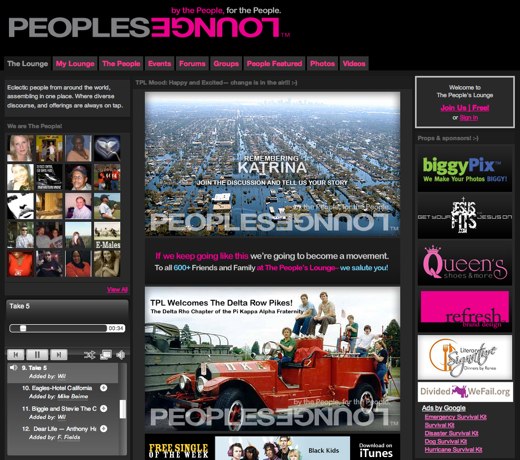 There are times when you want to be active, and then there are times when you want to chill out. During those more relaxed times, take a visit The Peoples Lounge, a place where "diverse discourse and offerings are always on tap."
In any type of swanky lounge — its sophisticated pink and black design adds to the allure — the music has to be killer, which is why it's a great idea to turn up the volume when you stop by The Peoples Lounge. From old school hip hop to dance music, there's a wide and eclectic variety. When you go out with uninteresting people, the conversation suffers. Luckily, the more than 600 members always have interesting things to chat about in the forums; everything from why Emily Dickinson rocks, to why it's extra important to register to vote.
If you aren't doing anything tonight, why not kickback and relax at The Peoples Lounge… the doors are open to everyone!
No related posts.