Raise a lighter to the Elvis Candlelight Network
Ning Network Spotlight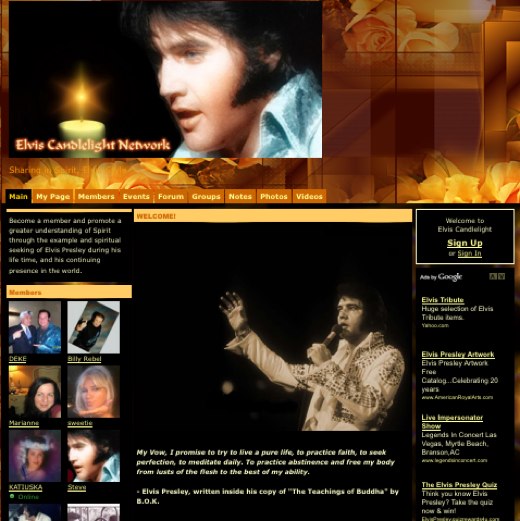 True believers know the King is coming back. He may actually be walking around today, and people don't even realize it. Of course, it would be difficult to ignore him wearing a white leather bedazzled suit. It's all about Elvis and those who believe in "promote a greater understanding of Spirit through the example and spiritual seeking of Elvis Presley during his life time, and his continuing presence in the world "at the Elvis Candlelight network!
If you aren't quite sure what the connection between Elvis and spirituality is, make sure to read the Elvis & Spirituality post in the Forum section. If you get it, but haven't quite caught the spirit yourself, it might make sense to spend some quality time in the Videos section. In addition to videos of Elvis performing, there are tribute vidoes galore!
Elvis once sang "a little less conversation, a little more action!" If you want to get in on the action, then the Elvis Candlelight Network is the place to be!