Awaken anew with the Phoenix Project
Ning Network Spotlight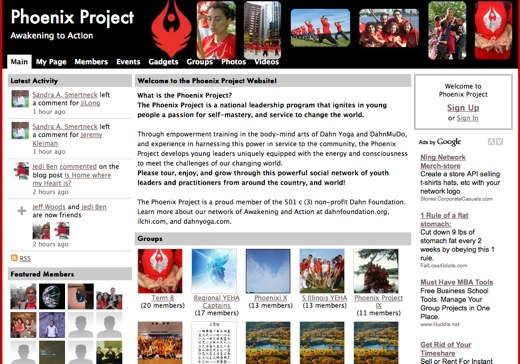 How do we make the youth of today the best leaders that we possibly can? Phoenix Project has one idea for an answer. Combine the arts of Dahn Yoga and DahnMuDo to foster in young leaders skills of energy and consciousness to help them face the challenges of tomorrow.
At the Phoenix Project hopeful leaders come together to share their ideals, aspirations, and goals and support each other in studies of these specific arts, which they hope to utilize today and in the future. A member of the non-profit Dahn foundation, the Phoenix Project network provides an informational and supportive area to connect members from all over the world. Often clad in matching red t-shirts with the Project's logo emblazoned on the front and proudly identifying them, members of the Phoenix project come here to share their experiences through a variety of media.
The blog contains an expansive archive for a budding network. Stories of hope, calls to action and requests for the insight of others can be found here. Elegantly worded and refreshingly real, blog posts can be added by all members of the network and are answered and reflected on often. Members aren't restricted to the written word in their endeavor to share and inform. Pages of photos, an array of groups and detailed events allow for communication visually and face-to-face.
Anyone wishing to know more about the Phoenix Project should take a look at the videos page, which displays videos from group meetings and other events and gives insight to this organization's mission and daily activities. The Phoenix Project uses an intriguing and unique method to bring together and nourish the leaders of tomorrow. Interested in learning more? The Phoenix Project network is well equipped to help you do just that.