Shine at BlogLight
Ning Network Spotlight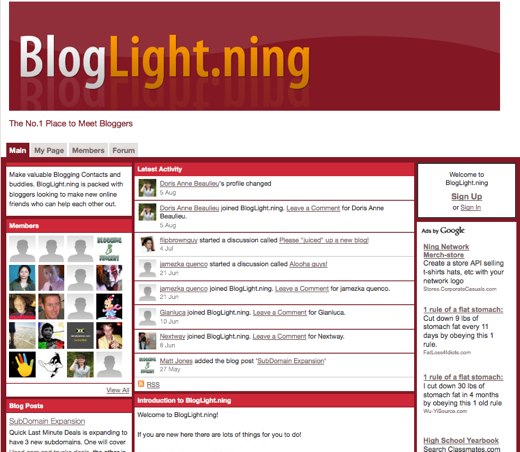 A successful blogger has to meet several criteria to be a "success."  Not least of these criteria is the ability to gain and maintain a decent readership number.  Without corporate backing or a ton of money this can be harder to accomplish than many people think.  That's where BlogLight comes in. BlogLight is a network made by bloggers for bloggers.
BlogLight is a place for aspiring blog writers to meet new contacts and help each other out!  While most networks and tools of this nature discourage self promotion, BlogLight encourages promoting your blog.  You can post in the network's blog area about your own project, and every post is featured on the Main Page for "maximum exposure."  Meet fellow blog writers and new members through profiles, or in the BlogLight forums.
If you're an aspiring blogger with a brand new blog and you're looking for contacts and help getting exposure BlogLight is a good place to start!