Sipping some vino with a Winebuddy
Ning Network Spotlight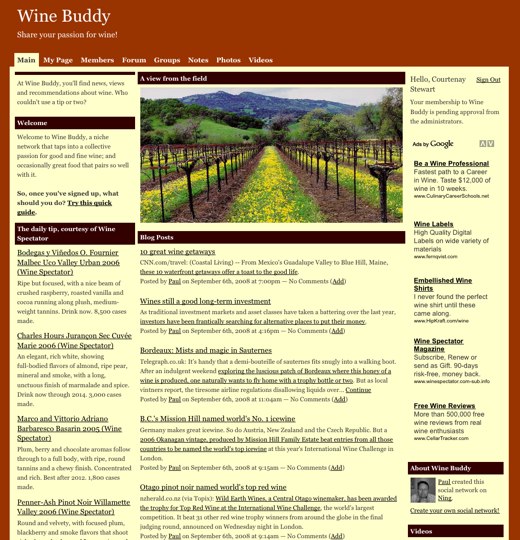 I have always aspired to be a wine expert, yet as I drove home from Napa last weekend, I realized my dream was far from becoming a reality.
Luckily Wine Buddy, a network for anyone who is passionate about wine, came to my rescue! Getting started was simple with the "Introduction to Wine Buddy" note. With hundreds of blogs and daily wine tips, the resources (or learning opportunities, in my case) are endless.
What's in your glass? All members are invited to share their knowledge and make wine suggestions. Yet the member vino advice is just the beginning. From wine tasting to investing, Wine Buddy's videos feature the most popular wine-related subjects. Recent videos include: "Niagara Falls Wine", "Demystifying Wine Tasting" and "Top Bordeaux".
When you are looking to try out the newest suggestions, sit back, grap a glass and enjoy the "View from the Field" photos. I'll drink to that — cheers Wine Buddy!