Spill the beans
Ning Network Spotlight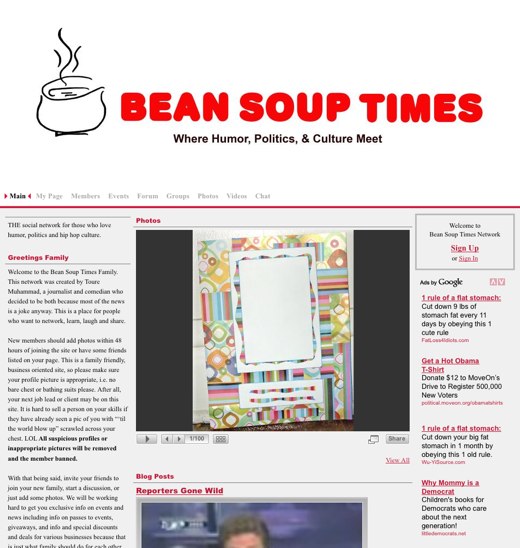 With a brow-raising U.S. presidential election just around the corner, nominees have the blogosphere, where Generation Xers, Yers and opinionated minds firing criticism, expressing their point of view and speaking up. Fortunately, there's an outlet, and it comes in the form of the Bean Soup Times Network, a place for anyone with a love for humor, politics and hip-hop culture.
As a compliment to its same-name humor publication, Bean Soup also highlights photos of members at comedy shows, meet-ups and get-togethers throughout the U.S. Beaners also populate the forums with pressing topics, debates and current affairs.  Recent highlights include Bean Soup's open-ended feature question "Did Obama make the right choice for VIP?" and a stormy look at  "Did Gustuv plan to do harm? RNC vs DNC".
So, by checking out the Bean Soup Times Network, you'll be better informed and politically aware when Election Day rolls around on Tuesday, Nov. 4, 2008.  Bean Soup can help make your choice as easy as, well, a can of soup.