Tailgating for the sport of it
Ning Network Spotlight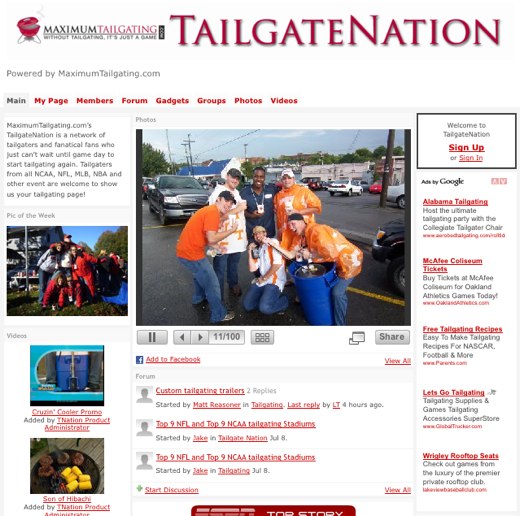 With football season just around the corner, sports fans will be cheering when they check out MaximumTailgating.com. This network is the place where tailgaters and spectator sport fanatics share their pre-game celebrations with the world.
The MVPs for MaximumTailgating.com are the celebratory photos chronicling epic stadium-side BBQ's and pre-game rituals. Other strong contenders for the network include the sports-news-packing ESPN widget running the extra yard to give members the latest plays.
Must-have tailgating necessities include the Son of Hibachi ultra-portable grill, ManicNole's Port-o-Privy, the Cruzin' Cooler, body paint and a decked out party bus. Members like Daniel use their page to show off the fruits of their labor, like his tailgate cargo box. It's the perfect accessory for any popular tailgating host.
While we leave the athletes to the field, MaximumTailgating.com is your season ticket to getting the most out of one of America's favorite pastime: the tailgate.
Let's start create sport website builder