Talking about your masterpiece at Write It!
Ning Network Spotlight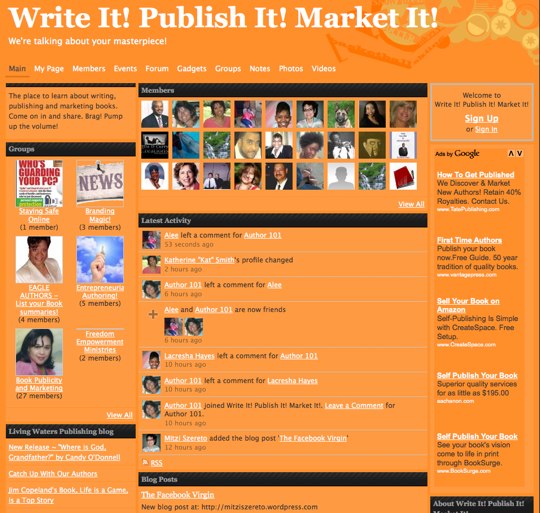 Struck with writers block? Whether you are or not, Write It! Publish It! Market It! should be the next stop for any writer.
The networks mantra is "We're talking about your masterpiece," and it shows! With a wealth of resources including nearly 300 members to offer support, writers are sure to find the advice and tools they need to create their own masterpieces.
The network's forum is a great place to start. Discussions include: "Most readers still judge a book by the cover," "What inspires your writing?" and "Get your book reviewed on this site". When you are done checking out the forum, head over to events to see authors speak about their novels and give tips for writing a bestseller. The event's section also features talks to promote safe writing such as the "Staying safe online talk show".
In addition to the discussions covered in the forum, topics from "Writing and the therapeutic value" to "Why are you unpublished" are also featured on the network's blog. Browsing through the site, writers can find or discuss just about any topic. So head over to Write It! Publish It! Market It! to talk about your future masterpiece!