The Five Freedoms Project
Ning Network Spotlight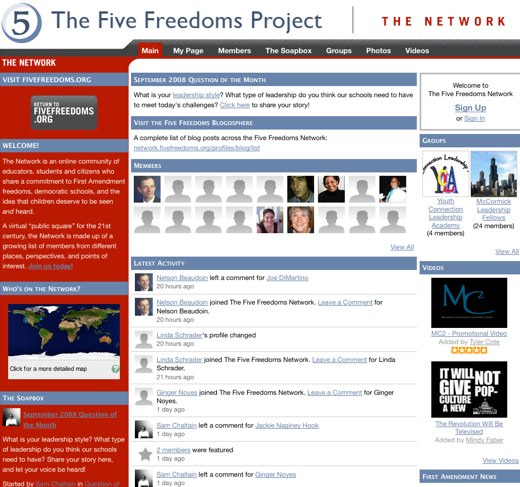 Join together with educators, students and everyday citizens dedicated to teaching about—and upholding  —the first five freedoms spelled out in the US Constitution's First Amendment at The Five Freedoms Network.
Each month, a new "Question of the Month" graces to top of the network's main page, and asks for responses back from the more than 500 members. August's question: "If there was only one thing your school community could commit to and achieve together, what would you want it be, and why?" — saw answers like "collaboration and working together to get a job done," and "a diploma in every hand."  Educators can also trade ideas on how to best approach teaching the First Amendment in the classroom and how to work well with administrators to get agreements related to the five freedoms put into place.
Still not sure? Check out the introduction video below, and then join The Five Freedoms Network to show your support for the First Amendment.