The Subculture Collective
Ning Network Spotlight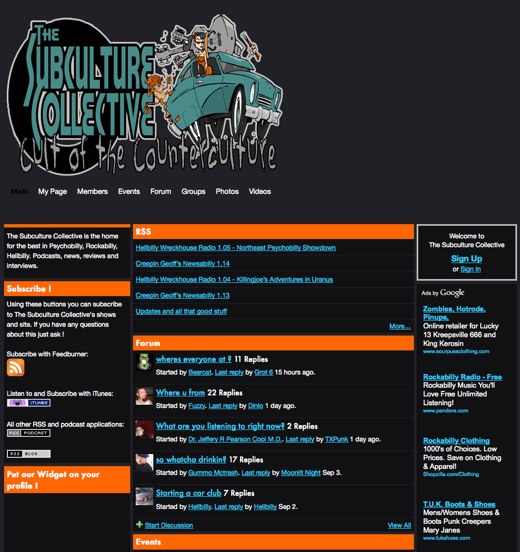 The Subculture Collective bills itself as the home for "the best in Psychobilly, Rockabilly and  Hellbilly," and whether you are new to counter culture, or a long-time rockabilly fan, you find something of interest to see on the network.
While I've always been more of a J. Crew-wearing lady myself, I've secretly harbored an interest in tattoos, sexy cars and vintage clothes, so I'm checking out the events section to see what's coming up in my area. While I probably won't make it to Trashorama in Richmond, VA, I may try to pencil in Hunnert Car Pile-up, in Moris Il, which promises "a one day Hot Rod Show with Rockabilly bands, beer, vendors, (this is where I come in), and lots of other cool [stuff]."
What The Subculture Collective also does really well, is rock its custom header. This network exemplifies simple it can be to create a totally custom look, just by investing the time in creating a kickin' header and picking appropriate colors for the rest of the network.
The Subculture Collective's members know: to celebrate the cult of the counterculture, join The Subculture Collective today!