Getting in with the Tumblers
Ning Network Spotlight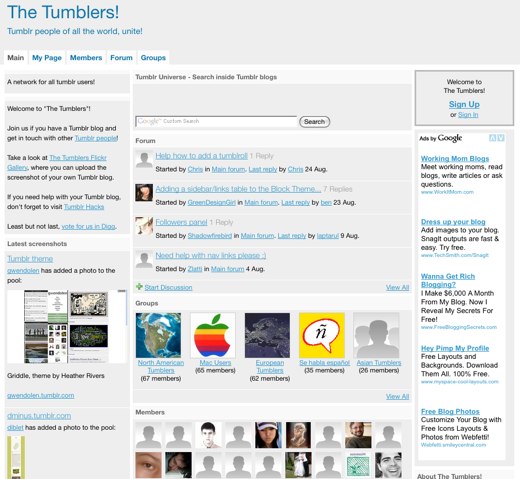 Tumblr, the blogging platform for the uber-hip media types, is simple to get set up with, and makes blogging a cinch. The problem? It can be difficult to figure out how to do anything more than the basic posting (i.e. add comments, add a blogroll, etc). Enter The Tumblers, a social network for tumblers (the cute name for people who have a tumblr) to learn how to best rock their newly created blogs.
When members don't understand how to add a sidebar, they can post to the forum section. For new users of Tumblr, there is a wealth of information available for perusing, like this all-encompassing post on Tumblr resources across the Web. If your Tumblr is already in it's finished, customized state, post a link to it in the "Oh yes, this is mine!" section for posting your own blog.
If none of this means much to you, it may because you are still using WordPress or Typepad. Grab your own Tumblr, and then join The Tumblers to learn how to make the most of it!