Time to get your swerve on
Ning Network Spotlight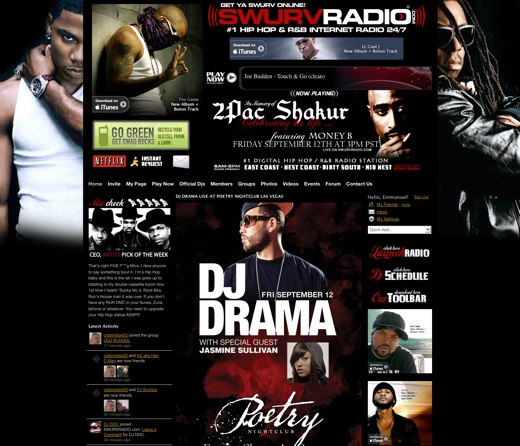 There's no shortage of hip-hop Internet radio stations, but few combine radio and content as well as SWURVRADIO.com.
With 17 in-house DJs and 24/7 streaming music (radio-friendly from 6 a.m. to 6 p.m., uncut from 6 p.m. to  6 a.m.), SWURVRADIO.com makes sure your hip-hop listening needs are met.  You have four media options for streaming their radio feed: iTunes, Windows Media, Winamp and RealPlayer.
If you feel like discussing something other than music, you can get political by joining a scintillating debate about Sarah Palin in the forum.  Members stay on top of their concert game with updates on shows featuring Ice Cube, Common, Talib Kweli, Redman and Method Man.  You can also find your niche in one of many groups, including Beat Makers/Producers, Unsigned Hype, Old School, Dirty South and West Coast.
SWURVRADIO.com is a great destination for those new and old to hip-hop.  Start listening now!