Tomorrow is the new tonight
Updates
We've been putting the final touches on our latest release (which we've mentioned a number of times in the past few weeks here, here, here, and here).
We are now scheduled to push this new release out tomorrow night, Saturday, September 27th with a planned downtime of 30 minutes at 10:30pm PDT.
We can't wait to get this out to everyone, but there are a few more finishing touches we want to put on it and a few more rounds of testing we want to get through before sharing it with the world. We appreciate your flexibility and patience in waiting one more night.
This release includes three key improvements:
A new message center in your network
An iPhone interface fully customized for your network
Simplification of the Main and Profile Pages and consistency of features generally
As a preview, here are a few great things we're now releasing on Saturday night…
First, we're updating the profile page to retain a few things that you wanted.
Since we first talked about our simplification and consistency work a few weeks ago, we got a ton of great feedback that we incorporated into this release. Here's the new profile page: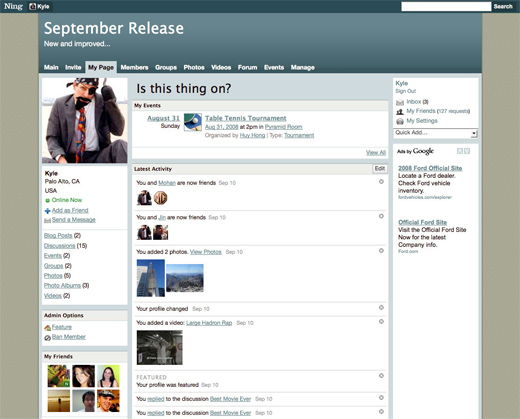 The title of the page behaves as it does today. It's just moved to the center column, but is still editable.
The links to a person's content remain on the left column and continue to include the count of content added.
This link section now shows all the features available on the network, not just the features that this person has added already. If the member hasn't added any content to that feature, people visiting the page still see the link, but it is grayed out.
There is now a 10 pixel vs. the current 5 pixel margin between columns and sections.
The comment box on My Page starts closed when you are looking at your own page, which will look a bit cleaner. This is only closed when you are looking at your own profile.
The biggest change in this release is the profile page is now the only page on a network that displays a member's chosen appearance. Currently, the member's theme is displayed on that member's blog, My Settings and friends pages too. In turning the blog into its own tab in this release and restructuring navigation for better usability, the different themes created a confusing experience. As a result, the blog and friends pages now take on the theme of the network, not the member's theme.
Second, we've made your entire network more consistent and easier to use.
As we showed off in an earlier post, here's the new, simplified Main Page: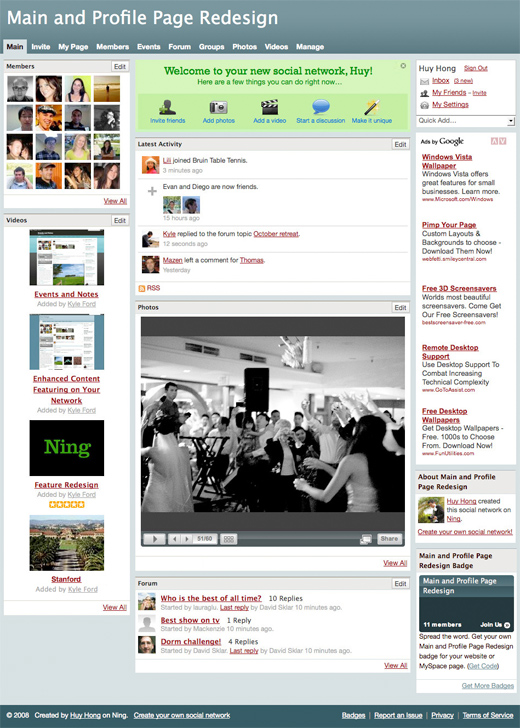 Here's a partial list of the things we've tackled as part of this work:
Increasing the width of the gutters (the space between columns) from 5 to 10 pixels.
Standardizing the titles, navigation, text size, spacing, and display of text and images across your network. As a result of this work, you should notice subtle changes in the layouts and titles of your network features. This work should make browsing between features much smoother for your members.
Standardizing the display of featured content across feature homepages. We've made them a bit smaller so they are more proportional to the rest of the content on the page.
Standardizing the browser information provided and displayed across pages. This should also help in a small way with SEO ahead of our simplified URLs coming in early November.
Moving the Manage Discussion Forum link to the Manage Page. This is where Network Creators expect to find it, so we've moved it out of the navigation on the Discussion Forum (also to standardize on the titles and navigation across features) to the Mange Page.
Reorganizing the default tab ordering to anchor the most popular features closer to the left where they are easier to find. You can always change the order with the Tab Manager.
Adding search and pagination to the new blog tab that goes to everyone's blog posts page, renamed "All Blog Posts" to be consistent with other features. We've also updated the navigation across the blog feature now that it has its very own tab.
Adding member images to the blog module on the Main Page of your network to be consistent with how discussions are displayed.
Adding the option to display Groups on the Main Page by Latest Activity to be consistent with the sort options on the Groups Homepage. This is cached so the latest activity may be the latest activity from 10 minutes earlier, but the option is now there.
Displaying featured members, if you have them, on your Sign In and Sign Up pages. Currently, these pages show latest members, which on a network growing rapidly means that most of the avatars are the default gray man. If you don't have featured members, the display defaults to latest members.
All of these things are small and should be subtle changes that make your network just a little bit better as you and your members surf it.
Third, we now have a new HTML email design.
Here's the new HTML email design: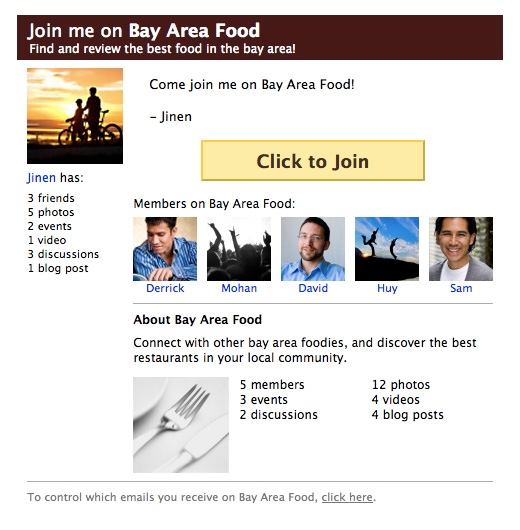 Fourth, there are some performance enhancements we've added.
The major performance enhancement you'll see live on your network is our replacement of Dojo with the newer, faster javascript library called jQuery. This is an under-the-hood improvement that most likely won't have any visual impact on your network. You can find a more technical discussion of this change here in the Developer Network.
Lastly, we have fixed a handful of smaller bugs.
These include:
Member profiles now appear at the top of search results
Created By no longer appears in the footer when the "Created By" box is removed
Certain characters — like é and ü — no longer disrupt generated feeds
Members can now follow group discussions by receiving notifications of new threads. They are notified when they join a group that they will receive these email notifications automatically, but can turn these off very easily from the group's homepage
Required profile questions can no longer be bypassed by members when they follow a particular path to register (closed a loophole)
Again, thank you for your patience around the timing of what is going to be a great release. We really appreciate it!