Watch the Bonnie Hunt Show
Ning Network Spotlight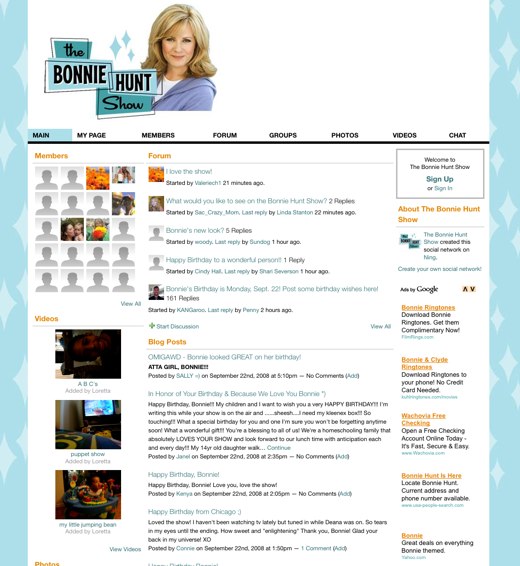 Oprah better watch her ratings! Actress and comedian Bonnie Hunt has a new daytime talk show on the airwaves and she's not holding back. Fans of the show can talk about their favorite Chicagoan and meet fellow viewers of the daily show on The Bonnie Hunt Show social network.
As with any daytime talk show (think Ellen, The View or Regis and Kelly) it's not just about what happens on the air, it's about the whole experience. For example, viewers want to know why Bonnie wears what she does on the show (hint: they think she should graduate from hoodies into something a little more formal). Other members wonder how they can get their show-loving hands on a Bonnie Hunt coffee mug. There's even a forum post for viewers to request specific guests that they'd like to see on the air.
With Bonnie's quirky sense of humor and knack for coaxing the best out of her guests, the The Bonnie Hunt Show is well on its way towards becoming a daytime staple. For access to Bonnie's world any time of the day, make get off the couch (where you are watching her show), get on to the Internet and join her network!