Your Bollywood Boulevard
Ning Network Spotlight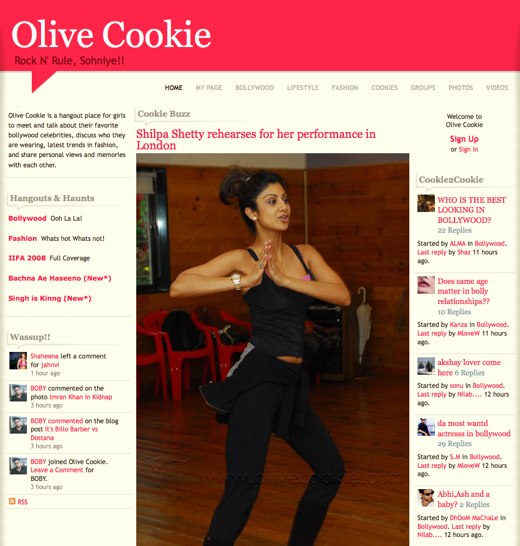 Dubbed "Bollywood," India's booming movie industry has given birth to a celebrity-obsessed culture that rivals even Tinseltown itself.  But, how do Bollywood junkies ever stay on top of the latest gossip and entertainment fan-fare?  The answer is Olive Cookie, a hangout where people "meet and talk about their favorite Bollywood celebrities, discuss who they are wearing, latest trends in fashion, and share personal views and memories with each other."
Olive Cookie's blog is the network's shining star. With tabloid-worthy stories always breaking, fabulous members like Bollywood Cookie, Chez Cookie and Style Cookie dish out the latest commentary, fashions, highlights and juicy gossip.
The network's 360 members, cutely known as Cookies, can also admire and get the latest style cues from more than 2,200 photos on Olive Cookie. If your cable package skimps out on Indian television, there are close to 200 videos to keep you entertained and well-informed on Bollywood.
Bollywood is where it's at and Olive Cookie is your all-access pass to what's hot in India's entertainment industry.  Hollywood is so yesterday … Britney who?