All about shopping with ShopIt
Ning Apps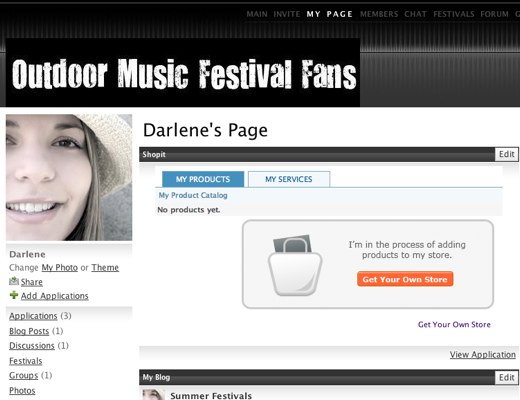 We introduced Shopit, an OpenSocial application, in a blog post earlier this month. Find out more about bringing online shopping to your social networks on Ning, check out our interview with Shopit's creator Troy Payne:
How would you describe ShopIt in a nutshell?
Shopit is the leader in free social commerce, allowing users to buy and sell products and services within social networks for free. The platform enables efficient sharing and publishing of products and information anywhere online. Shopit's free commerce platform also supports the functionality to sync with traditional e-commerce sites such as eBay and Yahoo Stores.
Where did you get the idea for ShopIt?
We came up with the idea for Shopit when we saw that many of the early adopters of Social Networks were using their profiles to promote or sell something, but did not have the capacity to transact or manage the post transaction process.
What is your favorite aspect of the application?
The freedom with which you can buy, sell and share things with friends — anywhere you are online
What would you say to someone who wants to create an application?
It's easy! Just sign up, add your products or services to your store, message all your friends, and begin selling right from your profile page. If you already have a Shopit account, you can simply add the application to your page, then enter your username to sync accounts.
Do you have any advice for ShopIt users?
The more you market your store, the more you'll sell. Tell your friends about the stuff you're selling and they can check it out right when they're on your page. Also, take your store with you wherever you hang out online; social networks, blogs, chat windows, discussion forums, etc. It's easy and free and you never know who will be interested in your stuff!
Tell us more about yourself and where you are from.
My name is Troy Payne (follow me on Twitter) and I'm from Los Angeles, Calif. I'm the lead applications developer for Shopit and I have a strong passion for all things tech. I enjoy tea, red wine, films and Macs. My teammates and I are currently working on a brand-new version of the Shopit application suite (Ning, Facebook, MySpace, Bebo, hi5, AIM) — as well as the destination site — that we're really excited to share with our users. Codename: Gazelle is coming very very soon 🙂