All the details of teddy collecting await you at McBears.com
Ning Network Spotlight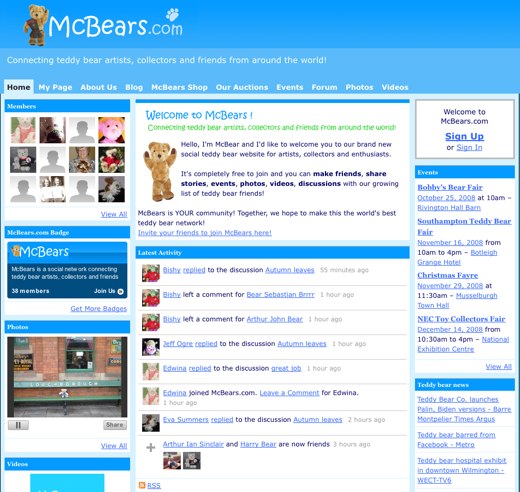 You may still remember the Beanie Baby craze. The folks at the new network McBears.com, however, love teddy bears for their own sake – a lot. Network creator Jo Rothery has a wonderful story of how she came to love collecting bears, and her enthusiasm is infectious. McBears.com has even been in the news lately as the savior of a teddy bear whose profile was kicked off Facebook!
In fact, it's hard to go anywhere on McBears without a smile creeping onto your face, whether it's reading Teddy poems or looking through a whole page of bear fair events (who even knew there was such a thing?). Hardcore collectors will find McBears quite a resource, too, with a store loaded with books on bear care and collecting, bear Ebay auctions and blog help to track down elusive teddy collectibles.
There's really no better way to brighten your day today than to check out McBears.com. Stop by the site, and let its upbeat attitude and dedication get you just as excited about our small furry teddy friends.