Around the World and back with Unype
Ning Apps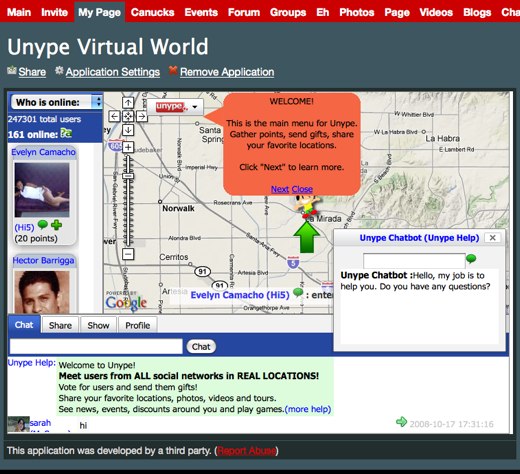 Unype is the OpenSocial application that brings the world to your fingertips. Connect with friends from around the world directly from your social network on Ning. Check out our interview from the man who knows it best, Unype's creator Murat Aktihanoglu:
How would you describe Unype in a nutshell?
Unype lets you meet and chat with users of all social-networks who are living around you. It's like going around the world and chatting with the locals wherever you go.  We now have 250,000 users from all social networks interacting with each other in Unype.
Where did you get the idea for Unype?
The idea started to develop in my head 13 years ago when I was working on VRML (a 3D version of HTML) at Silicon Graphics. I started a company (thenextweb) in 1999 in New York and developed a multi-user 3D internet world running in a Windows client using VRML. Users had to download and install it. Also they needed to have a powerful computer. The market and technology were not ready at that time for any large-scale adoption of such a system.
Then in January 2007, I felt it was time to take advantage of all the social networks and geolocation infrastructure out there and started working on Unype with a small team. We developed Unype applications for each social network (up to 7 now) and people started to use Unype in big numbers. We have had no need to spend money so far on marketing or advertising thanks to Ning and other social networks and the word-of-mouth recommendations from users.
What is your favorite aspect of the application?
We love it when we see users from different social-networks meet and chat and become friends. They never would have found each other if it weren't for Unype.
We also love that Unype has no registration, absolutely no impediments for new users. You just add Unype and start using it. We utilize your existing social-graph instead of asking you for all that information again.  If you are entering Unype via unype.com or via the iPhone app, you can choose to login using an existing social network account, or you an continue without logging in at all.
What would you say to someone who wants to create an application?
Ning is a great platform for reaching a wide-variety of interest-groups. People who stay out of mainstream social networks do join 'wine-lovers' or other niche-interest networks on Ning. And with the introduction of OpenSocial 0.7 support, now it's even easier to reach more users in Ning.
Do you have any advice for Unype users?
Move around the world in Unype to the places you are interested in and meet new users there. We have users from Madagascar, Mongolia, Congo as well as a lot of users from South America, Europe, Asia, Australia.
Also, we are currently working hard on our iPhone and Android applications so, soon you will be able to stay in touch with your friends and meet new people on the go as well.
Tell us more about yourself and where you are from.
I have a Masters Degree in Computer Science from Turkey. I have been building 3D web applications for the last 15 years at SGI, Web3D Consortium, Sony (New York and Tokyo) and my company Holoscape Inc, where I was involved with many startups in 3D web and rich media space. I love New York and I am organizing meetings in New York to support entrepreneurs and startups. I am excited about Unype as a tool that makes users' lives better by augmenting their real-life with their virtual lives
And you can follow me on Twitter.