Bleeding Blue or Red — but definitely not both
Ning Network Spotlight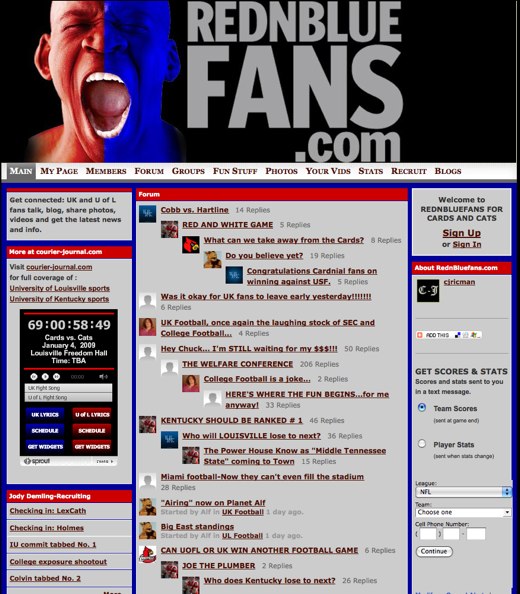 If you live in Kentucky, it's the first question people will ask: Who do you cheer for? If it's not the U of L Cards or the UK 'Cats… then it might be time to leave the state. Kentucky takes its college sports seriously. Whether you bleed Cardinal red or Wildcat blue, Red N Blue Fans for Cards and Cats is the place to proclaim your allegiance.
With it being the middle of the football season (and basketball starting next month), there's no time like the present to jump in and start trash talking on the forum. There are more than 150 responses to the forum post on the Welfare Conference (and if you don't know what it is, and consider yourself a college sports fan, you better read up). The network members got even more riled up on a post in which Louisville was called out for being the real "lil brudda" — the weaker school. Not surprisingly, a flurry of Louisville fans flocked to the school's defense, which in turn, just fired up the Kentucky fans. Even more trash talk ensued.
If trash talk isn't your style — you're more of a "re-live the glory days" type of fan — then make sure to stop by the videos section. There, you can enjoy some of the biggest moment from both teams' seasons (current and past). Just don't get too cocky; you never know which team will come out on top in the next big match-up!