Chocolate Rain's online home
Ning Network Spotlight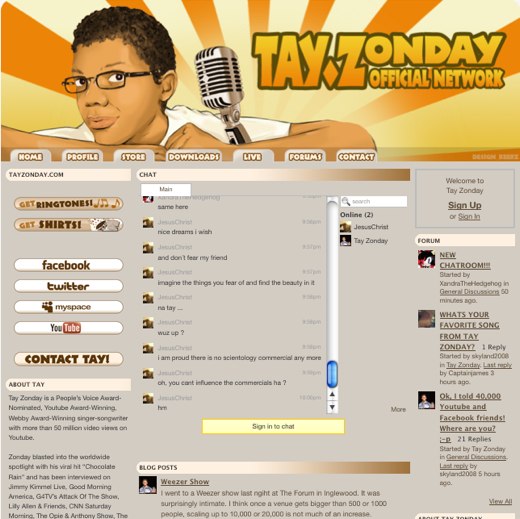 If you made it through through 2007 without hearing Chocolate Rain, the strangely captivating song by Tay Zonday, then it's possible you didn't ever go on YouTube, or hadn't yet learned how to use the Internet. It's now 2008, and 2007's web celeb Tay Zonday's official network was recently launched to give fans a place to connect with their favorite baritone.
I love the '70s cartoon feel of the header, which sports an awesome illustration of Zonday (it's hard to believe from his videos and the illustration that he's 26). On the forum, network members are discussing their desire to say Tay live in concert and what they would do with a Tay-like deep voice. Or you can just keep up with Tay via his blog, where he muses on YouTube and Weezer concerts.
Chocolate Rain has been viewed more than 30 million times. While the network doesn't have that many members — yet — it's the new official online home for Tay Zonday. Connect with other fans and talk with Tay himself when you join the network!