Extending the sustainability movement's reach
Ning Network Spotlight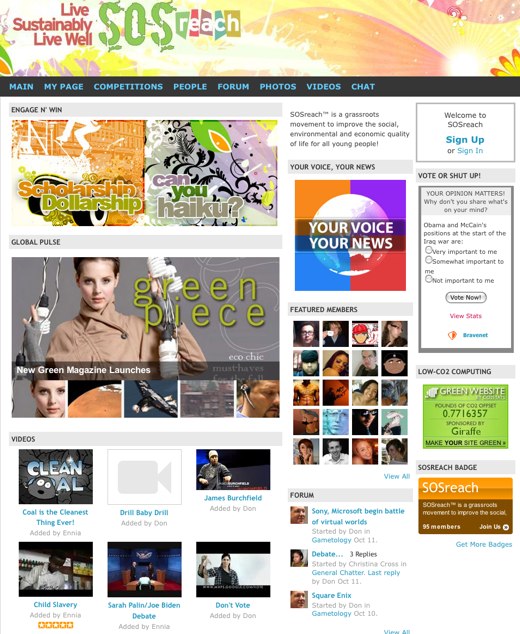 Sustainability and style is the focus of SOSreach, the beautifully designed network for those who believe in "living sustainably, living well." The goal of the network is "to improve the social, environmental and economic quality of life for all young people" and they're doing it through conversation, competitions and content that speaks to their members.
The fantastic background on the Competitions page, highlights the innovative way SOSreach is engaging its members. One competition asks members to write sustainability themed haikus. A separate one — the Scholarship Dollarship — challenges creative members to come up with their own creative contest entries focused on a sustainability initiative. The photos section includes some amazing illustrations of why it's so important to live a green lifestyle. Consider, for example, what transporting 60 people by car actually takes; now see what transporting 60 people by bus looks like. It's certainly some visual food for thought.
Even if you don't have a huge interest in sustainability issues, it's worth it to take a few minutes to explore SOSreach and see how they've customized the network with amazing backgrounds, color choice and flipping the left and center column. Your "out of the box" network truly can be transformed with if you have the vision. Stop by SOSreach to get inspired!