Fall in line at MyBerrics
Ning Network Spotlight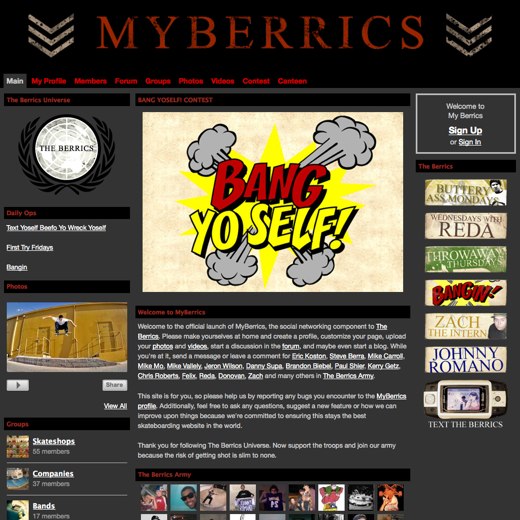 MyBerrics is the social network for The Berrics, skateboarding pros Steve Berra and Eric Koston's "Best Skateboarding Site in the World."  The integration between the two is seamless, and sometimes it's hard to tell which one you're browsing.
The Berrics Army is 5,000 strong, and its featured members include Giovanni Reda, Donovan Strain, Mike-Mo and Mikey Taylor, all well-respected names in the skateboarding world.
Over at The Berrics, Buttery Ass Mondays is Donovan Strain's weekly advice for those who want to "hustle an' get up out tha struggle."  It's entertaining stuff.  You can Text the Berrics any question, have your question answered with an SMS reply in Text Yoself Beefo Yo Wreck Yoself, where Steve Berra and friends answer questions like "Why do men have nipples?"
Head over to the forums and talk about your favorite trick tips, skate spots, products and of course, whatevs. In addition to skateshops, companies and bands, the groups are mostly categorized by geographic location. With so many to choose from, it's easy to find one to join. And don't forget the best part of any skateboarding network — a rockin' awesome collection of videos.
After you've pulled out every trick in the book at your favorite skate spot, grab a cold drink and join the army at MyBerrics!