Indiana's Musical Family Tree
Ning Network Spotlight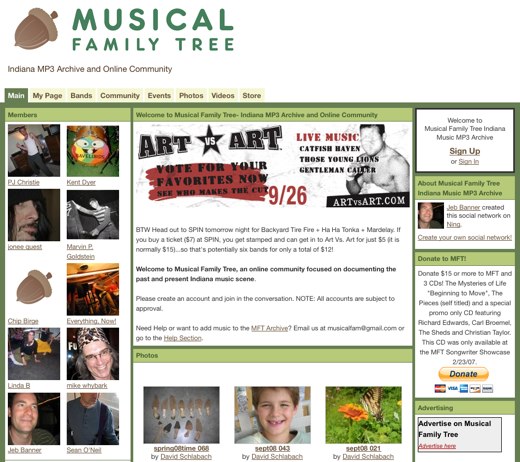 Musical Family Tree is a haven for Indiana music fans of all ages. The network focuses on documenting the Indiana music scene, past and present.
From concert events, music news and band videos, the resources are endless. Most impressive is the list of MP3 archived songs. Search bands alphabetically or by location. With thousands of songs already archived and new music continually being added, all your music needs can be found here.
Starting a new playlist? Perfect it with suggestions from the top downloads section. When you are done, head to the forum to discuss your recent additions, compare songs or gain some music wisdom. "Great Music Websites" and "Indiana Music Compilations" are just a few of the popular discussions. Whether you love to talk music or prefer to just sit back and listen,  Musical Family Tree should be your next stop.