It's strictly Reggae Vibez
Ning Network Spotlight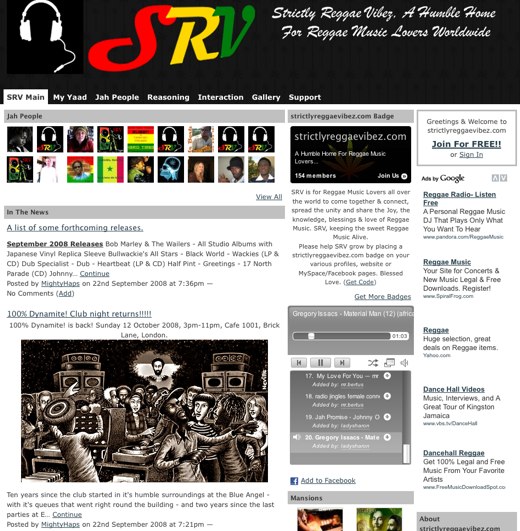 Feel that warm island breeze pass over you and the beat making you nod your head? It's just the music from Strictly Reggae Vibez — the social network for worldwide reggae music lovers — doing its thing.
On a more technical note, Reggae Vibez has done some fantastic work with the recently added Tab Manager to totally customize their network's navigation. The My Yaad tab has drop-down sub tabs for My Friends, My Photos and My Videos, while the Interaction tab has drop-down sub tabs for Chat, Mansions (groups), Blogs and Events. The default tabs a network has are only that — defaults—and Strictly Reggae Vibez is a great example of how a little customization with this features goes a long way towards defining a network and making it totally unique.
Since the network is all about celebrating and listening to reggae music, there's plenty of discussion of the best albums and artists out there. Once you know who you like, the next step, of course, is to see them live. There's already events planned for 2009!
Reggae is all about getting in to the groove of things. Sign up, settle in and chill out with Strictly Reggae Vibez.