Make your mark on Infinite Graf
Ning Network Spotlight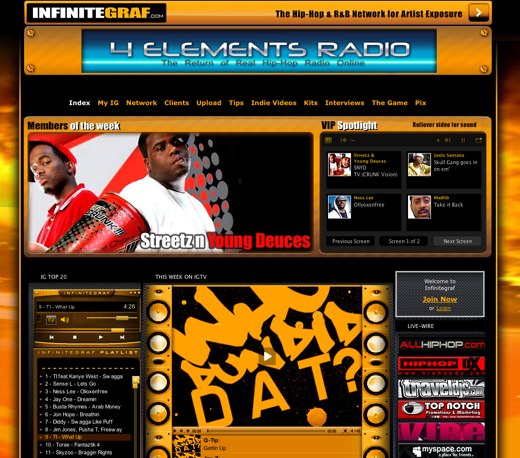 Inside each one of us is a hip-hop artist struggling to get out, and Infinite Graf Design's network will help that artist make the big time.
On the marketing side, Infinite Graf offers both professional Web site and commercial design and interviews with successful artists that are full of tips on the industry. You can even find some true stories of the business, like this one about how Jay-Z can't find gigs that will pay his appearance fee! It's an enlightening look at the ups and downs of a career in hip-hop.
If you're still struggling with your sound, Infinite Graf also has an array of instructional videos about editing and mixing software that should get you straightened out. Once you've found your vibe, check out some of their music videos for an example of what you could look like onstage!
Whether you're a dabbler or a hardcore rhymer, Infinite Graf is guaranteed to be your ticket to success.