Moms helping Moms
Ning Network Spotlight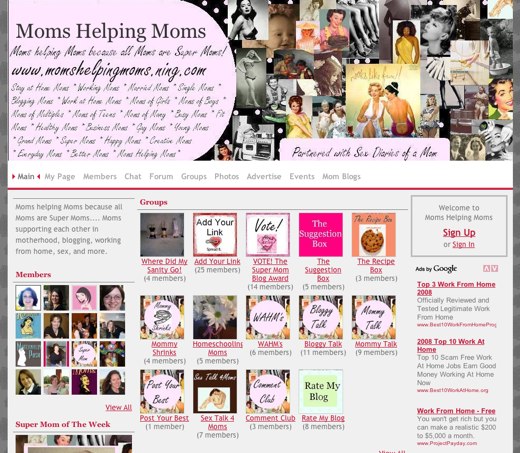 I honestly believe that moms everywhere must have some sort of hidden superpowers. How else can mothers know all they know and do all they do? Maybe their secret to success really isn't a secret at all. At Moms Helping Moms, success comes from sharing, connecting and, of course, helping along the way.
Start by checking out "10 Ways Moms Helping Moms Is ALL About The Moms." From the super-mom blog awards to great mom events, the support, the humor and the fun moms love is all here. Talking about work, kids and relationships has never been funnier. The most hilarious blogs and weekly stories are posted on the main page for all to read and love.
Need a pick me up? Mom's share inspiring and enlightening thoughts on motherhood then lighten up with live "Mommy Chit Chat". With groups like "Where did my Sanity go" and "The Recipe Box", joining this supportive network with a sense of humor is a must! Not to mention, the network's top contributor wins the "Super Mom of the Week" award.
So whether you need advice, or just a great laugh, Moms Helping Moms is the network for you!