New Kids are back on the block
Ning Network Spotlight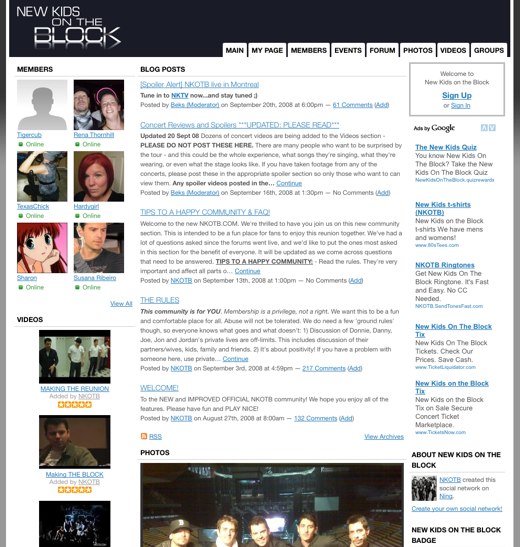 The Backstreet Boys famously sang "Backstreet's back, all right." But, if you really want to see who is back in the spotlight, it's all about NKOTB (that's New Kids on the Block, for those under the age of 25).
Heartthrobs Jordan and Jonathan Knight, Joey McIntyre, Donnie Wahlberg and Danny Wood released The Block in early September, and just like their music has kept current with the decades, so have their fans. The blockheads of the world have a new online home in the New Kids Network.
With more than 16,000 members, it's clear that NKOTB fans haven't ever stopped rocking out to their favorite group; they've just been waiting patiently for the comeback to begin. Find your New Kids niche in the groups section. Current popular groups include Blockhead Moms with almost 700 members! While Joey and Co. are touring the country, make sure you don't miss a show in your area by checking the events section. Upcoming concerts include Atlantic City and Boston.
The New Kids were gone for a while, but now they're back and ready for another trip around the block. Show that you aren't a fair-weather fan by saying it loud, and saying it proud, on the New Kids Network!