Nonprofit know-how when networking on Ning
Ning's Tips and Tricks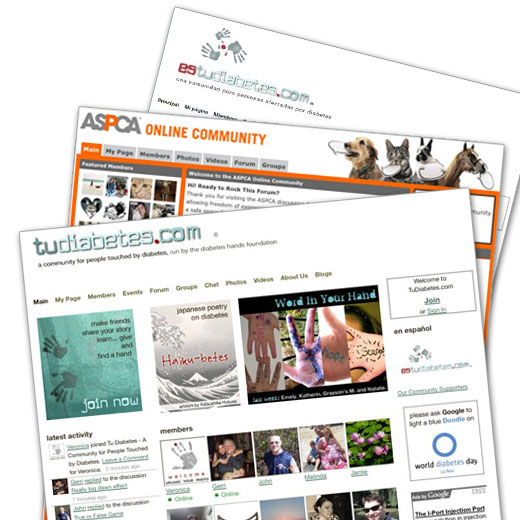 Nonprofits are always trying to do more while spending less. So it's no surprise that these philanthropic organizations want to harness the power of social networking as a way of reaching out to their supporters. Nonprofits, meet Ning.
We checked in with the people behind two of our favorite nonprofit networks: Manny Hernandez from Tu Diabetes and Es Tu Diabetes, and Ayumi Stubbs from the ASPCA Online Community. Combined, the three networks have almost 20,000 members, a testament to the hard work (and networking expertise) of these two network creators. Here are their best tips and advice — whether you're thinking of launching a network, or are already building up your member base for an already-launched network.
Build off your existing brand: The ASPCA Online Community is linked off the ASPCA website. Though one is run internally and one is a network on Ning, the two Web sites share a color scheme, icons (see the cute animals on the banner) and overall look, making navigation between the two relatively seamless for members and supporters. "We link to the ASPCA Online Community from our main navigation," explained Stubbs, "and consider it a part of our Web site."
It's about more than raising money: There isn't a fundraising feature built in to network, but a network can help — to an extent. Stubbs said the ASPCA does some minor fundraising through ads they place on their network, but that "our main goal is to provide an online community where animal lovers can engage with each other and the ASPCA."
Stubbs continued, "Instead of a member donating to us and only visiting the ASPCA Web site again a year later to renew their membership — they can come back throughout the year (every day, hopefully!) and really stay involved and feel like they are a part of the ASPCA.  Engagement and cultivation are a huge part of building donor value."
Hernandez's network has raised roughly $6,000 through its fundraising section. Running your own ads, of course, can be an additional source of revenue.
You don't need to be established to start: While the ASPCA is a large, extremely well-known philanthropic organization, Tu Diabetes started out as — and still is — based around the network Hernandez built on Ning.
"The social network was before the organization," Hernandez explained. "The social networks (TuDiabetes and EsTuDiabetes) constitute the two programs that make up the first unit in our foundation: our online communities." As the networks grow, the Hernandez's hope is that his organization can extend it's reach through books, calendars, and other forms of media. The overall goal, however, will remain the same: raising diabetes awareness.
All about the Forums: On both the ASPCA Online Community and Tu Diabetes, one of the most popular features is the forum. It's "where most of the interaction takes place at the community level," explains Hernandez.
On the ASPCA network, the forum is the second only to those features that allow members to show off their own pets—the photos and videos. Stubbs says the network's two most-popular topics are pet care and animal cruelty. "We're fortunate to have members who are very passionate about our mission!" she noted.
The price is right: For nonprofits looking to save money in today's economy, a network on Ning is really affordable because it is free. With Ning, you can get up and running at no cost before making any decision to purchase our optional premium services.
If you do decide you want greater freedom and control over your network, our optional premium services include running your own advertising ($19.95/month), using your own domain name ($4.95/month) and removing Ning's promotional links ($7.95/month).
We are raising our prices for new networks as of November 1st, but even then the full line of premium services will cost less than $55/month. Especially when compared with the cost of hosting a Web site elsewhere and building a social network from scratch, for non-profits this might just be the best deal in town.