Now airing: The Ellen DeGeneres Show
Ning Network Spotlight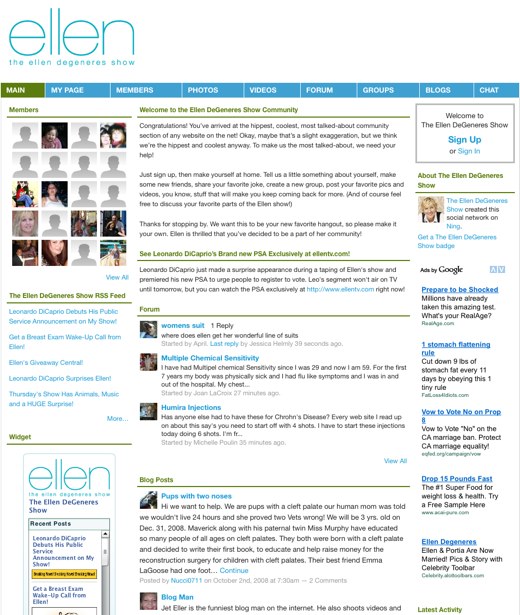 It must be awesome to be Ellen DeGeneres. She's got sweet dance moves, a lovely wife and a top-rated day-time talk show. It doesn't get much better than that! Be inspired by Ms. E, while chatting with other fans and engaging in some vigorous debate on The Ellen DeGeneres Show network.
Ellen's self-deprecating humor is evident on the top of the main page: "Congratulations! You've arrived at the hippest, coolest, most talked-about community section of any website on the net! Okay, maybe that's a slight exaggeration, but we think we're the hippest and coolest anyway. To make us the most talked-about, we need your help!" The best way to help, of course, is to join the network.
Once you do, exploring the groups is a fantastic way to see the range of fans that Ellen has. There's The Rainbow Group for GLBT fans, who are no doubt proud of Ellen for being the first network TV star to come out. Those fans who —we won't say "older" but they've passed the quarter century mark—also have a group, especially for them! Since anyone who watched The Ellen Show knows she loves pets, there's a group for pet-lovers, as well.
With almost 10,000 members, it's clear that Ellen's fans are a vocal, passionate bunch, especially when it comes to their favorite star. Join in on the fun on The Ellen DeGeneres Show network!