OpenSocial Now on Ning!
Developer
Updates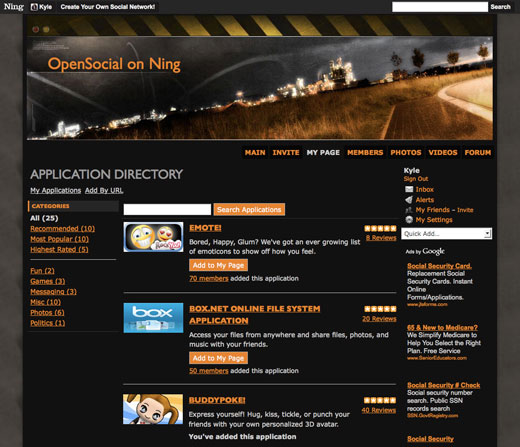 OpenSocial is now live across our more than 500,000 social networks this morning. This release replaces and improves our older "Gadgets" beta functionality, and enables Network Creators and their members to add all sorts of great new features, or Applications, to their profile pages with a single click.
Each social network on Ning now offers more than 30 OpenSocial applications from which to choose, including file sharing from Box.net, poll creation from Polldaddy and e-commerce from Shopit.
It's been a pleasure to work with the vibrant (and ever-growing) community of OpenSocial developers and see the diversity of the applications they've created.
Dave Westwood, who built a fantastic application called BuddyPoke, was especially enthusiastic, stating that "Releasing BuddyPoke on Ning has been the easiest port we've done, taking just an hour to be up and running. Excellent documentation. Congratulations!"
Here are some cool highlights of our OpenSocial integration:
The OpenSocial directory on each network automatically inherits the branding and visual design of that network.
OpenSocial applications on Ning can inherit the visual style of the member profile page to which they're added.
OpenSocial applications are automatically integrated into a network's viral loops. The ability for OpenSocial applications to write to a member's latest activity feed, send messages on behalf of the member and spread using a network's default viral sharing options are all there by default.
Here's the Application Directory: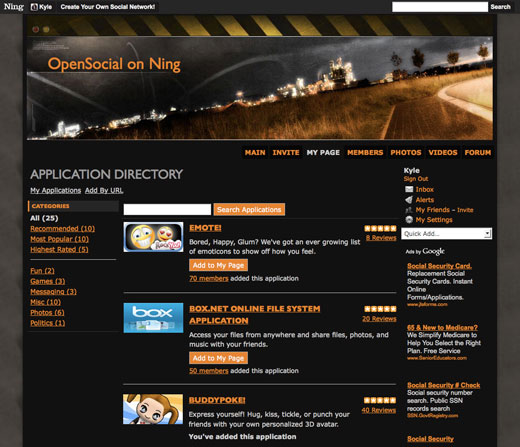 Here's an Application's 'About' Page in the Directory: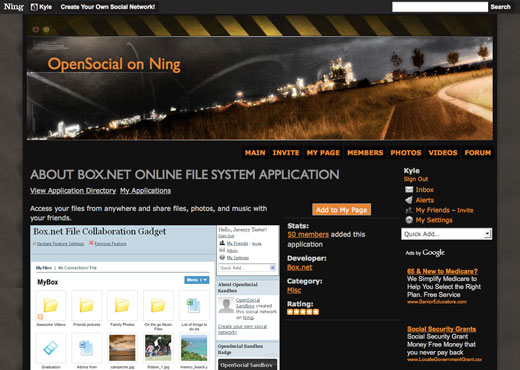 Here's an Application on a Member Profile Page: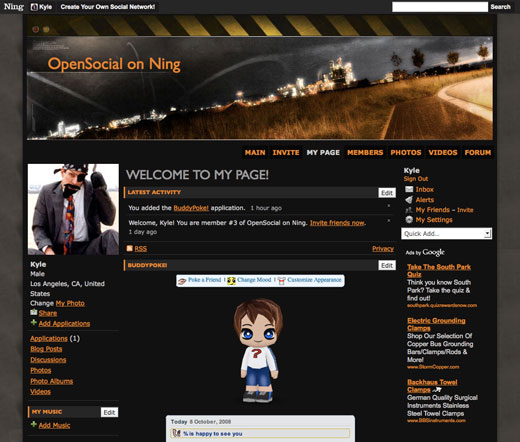 Here's an Application's Full-Size (or 'Canvas') View: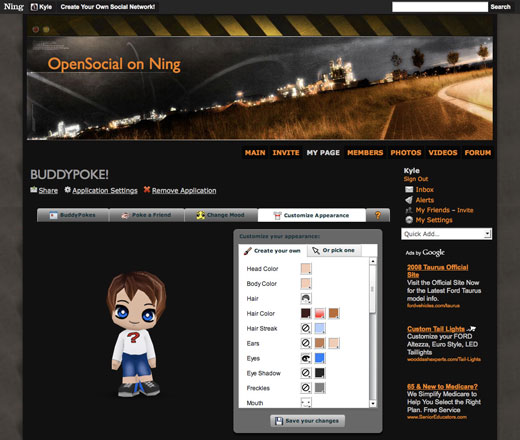 And for the full scoop, here's a screencast:
Watch a larger QuickTime version here. Like the song? It's done by Gerador Zero and you can download it here.
If you're an OpenSocial developer, please check out our all-new documentation. We'd love to have you on board!