Rock out in a Red Jumpsuit
Ning Network Spotlight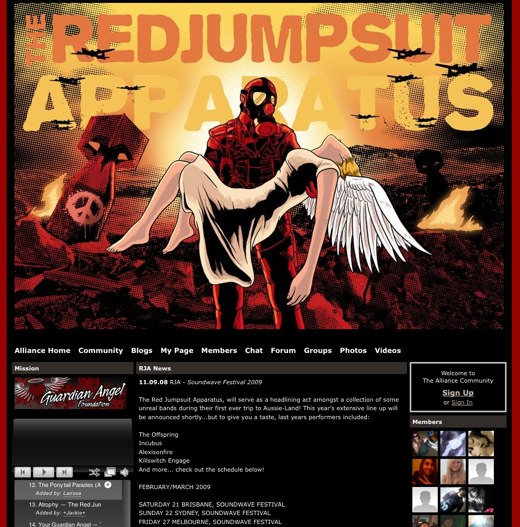 Rarely will you find a modern rock band with as much heart as The Red Jumpsuit Apparatus, and their network — The Red Jumpsuit Alliance — shows off their kindness as much as their style. True to their occupation, the group has created a Guardian Angel Foundation dedicated to funding high school bands by buying instruments, sheet music and instruction. More traditionally, the foundation also provides money to help solve domestic abuse and cure hyperglycemia.
The Red Jumpsuit Apparatus delivers on the music as well as the charity dollars, and uses the network as a launch platform for new songs. Videos and band memorabilia abound, and network members get a 10% discount on all products. You can even get involved in the creation of behind-the-scenes material, and there's an open submission call for photos and stories of encounters with the band.
If you're feeling more personal, the Alliance has a dedicated group of bloggers who use the network as a window to their lives for discussion and support, or you can discuss what other bands you might like if the Red Jumpsuit Apparatus fits your vibe. So break out some suspenders, because The Red Jumpsuit Alliance is worth a look!