Sharing the road to success on Greenlight Community
Ning Network Spotlight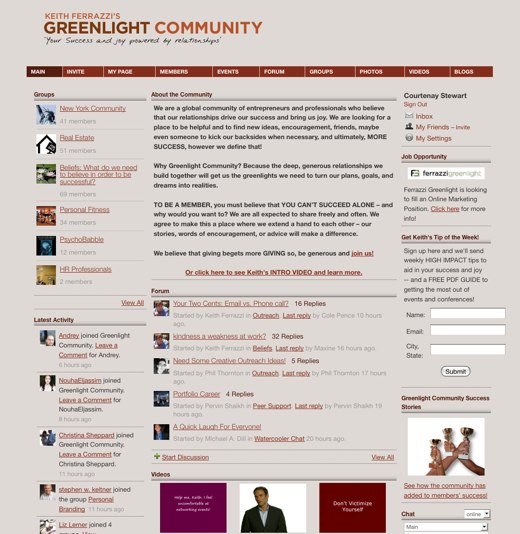 At Keith Ferrazzi's Greenlight Community, the road to success goes beyond your personal goals and ambitions. Success and joy are achieved with and through your relationships. Whether they lead, inspire or support, the people in your life make the greenlights possible to turn plans into actions.
Creator Keith Ferrazzi, author of "Never Eat Alone", leads by example. He describes his job as "broadening and deepening the relationships in my life" often in the context of work. His techniques now bring professionals and entrepreneurs together to discuss ideas, seek support and meet friends. The resulting success and joy are both celebrated and highlighted in the Greenlight Community Success Stories.
Start reaching out by participating in the forum, where discussion topics range from outreach to obstacles, generosity to beliefs. Popular posts include "Best Practices/Mindsets for Strong Leadership" and Keith's own "Simple Formula for Success".
For more advice, you can subscribe to Keith's Tip of the Week or attend events in your area. Keith's largest event is Big Task Weekend. This weekend event connects unique leadership to discuss social responsibility within business. The belief that "social responsibility has to co-exist with increasing shareholder value" drives the weekends discussions on creating positive change at work and in local communities.
Big Task Weekend's focus on giving back while connecting with others permeates the Greenlight Community network. Now is the time to start giving, sharing and ultimately achieve success and joy. So take a step towards your goal and join Keith Ferrazzi's Greenlight Committee today!